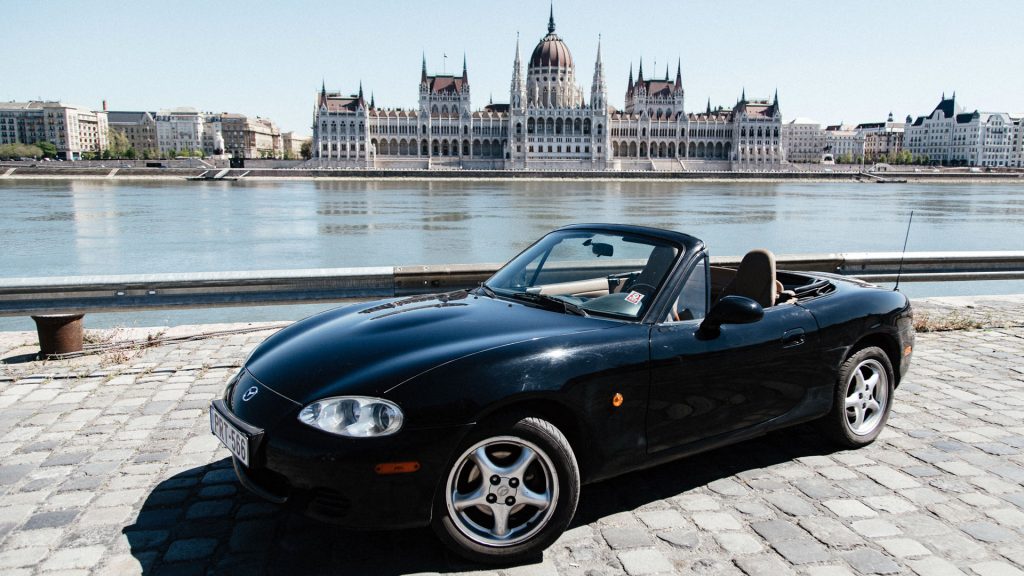 Car
Model: Mazda MX-5 NB Facelift.
Important parameters: 1.6i gasoline engine, 16 valve rear wheel-drive, 81 KW performance, 110 horsepower.
What does facelift mean?
The production cycle of a car generation is usually 5-7 years. At around halftime a so called facelift version comes out with some corrections. This is when they aim to fix the complaints and errors based on customer feedback. At times they elaborate on the design as well, furthermore they expand the equipment level.
Information
Where can I pick up the cars?
You can pick up the cars any place of your liking from Keszthely to Balatonfüred, any town along the northern coast of Balaton, as well as in the 12th district of Budapest (Normafa street). For an increased price Liszt Ferenc Airport is also an option.
What do you need for the car rental?
valid driving license
valid identity card
for non-EU citizens a valid passport
100.000 HUF deposit which is paid back in case the car is kept in a fully intact condition
Conditions
Proper use of the car and compliance with the applicable traffic regulations are essential requirements. As owners we guarantee that the car is provided fully ready to go, however for any damage caused during use, or for any accidents caused the renter is responsible.
All of our cars have the compulsory car insurance and Casco insurance on top of that, the down payment of which is up to 100.000HUF. The deposit is supposed to cover this, but of course, if an error occurs during intended use, it does not fall on the renter.
When the car is handed over the renter has the opportunity to create photographic documentation to prove the condition of the car, and if any damage is visible on the car at the time of the car rental, it will be documented as an attachment of the lease agreement.
Prices
We offer the following packages, which are available with all of our rentable Mazda MX5s:
1 day – 25.000HUF (gross price)
2-4 days – 23.000HUF/day (gross price)
5-7 days – 20.000HUF/day (gross price)
8+ days – as agreed
Renting
Pick the free days in the calendar below for which you would like to rend the car, provide your data in the application form and click send. We will get in touch with you to arrange the details.