Cabrio experience
Classic
With more than one million models sold the Mazda MX5 is the most popular roadster of the world according to Guiness World Records. It's a true classic that you must try at least once in your life.
Adventure
You want to take a trip to the Mátra or to Balaton for a long weekend? We guarantee that driving a Cabrio it's not just your time spent there but the journey itself that will be a great adventure.
Speed
Since you get a streamlined little roadster from us, even at 70 you can feel as if you were doing 120. You don't have to break the rules to get a speedy experience.
Feeling it!
You retract the roof, put on your sunglasses and enjoy the sunshine, the cool breeze, the precision of the gearshift, the momentum of the engine, the low rumbling and the envious look of others at the red light … That's the feeling!
Event
You can make the most important events of your life memorable with a Mazda MX5. Why would you not have a movie like Cabrio as your car for your wedding? It's just like Hollywood!
Gift
You don't know what to surprise your partner with for their birthday or your anniversary? Don't think about it anymore, because they will love driving a Cabrio!
A message from the owner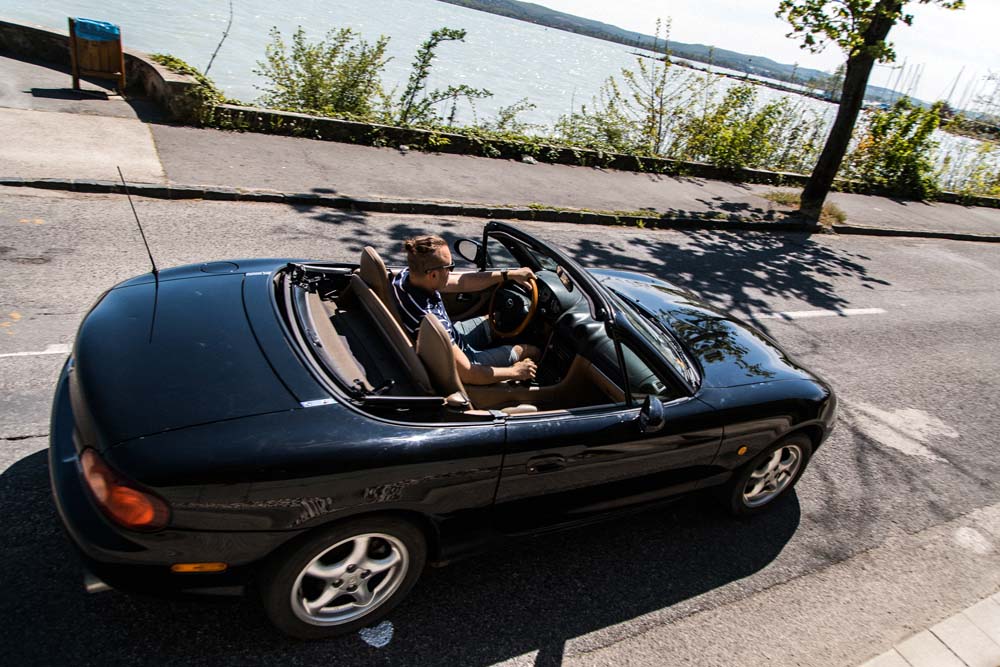 I fell in love with the MX5 in sunny Genoa, Italy. In Hungary the brand is associated with vibrant club life, but there, on the coast of the Ligurian Sea these little roadsters were so tempting that I knew I would never feel complete without them. It's a truly sporty, party vehicle, gets the attention wherever it goes if you leave the roof open. Many times people are just staring at it and then see the keys in your hand and give you a wide smile. And that smile says everything: with this car you are living other people's dreams as well. Believe me, you have to experience this feeling!
György Tanai
Our customers said
"The renting went smoothly, the owner was just as cool as I imagine a Mediterranean, Cabrio guy to be. We rented the car for a girls' getaway weekend. The whole atmosphere was set on the way there with this little miracle car. It was the perfect program to speed along the Balaton in the sunshine, with the roof down."

Zsofia Lukovics
"Our goal was to make the holiday extra with something special. It was awesome to drive this vehicle, it was a great feeling, at a very reasonable price. Everything worked the way we arranged it, the owner was totally fair. The best thing was to see the way my partner got excited about the car. I can recommend this experience to everyone who wants the ride of a lifetime."

Tibor Mátyus